Safe Water Gardens are reliable, safe, and affordable sanitation systems for rural communities who may not otherwise have access to proper infrastructure for their wastewater, a source of pollution for local waterways and risk to community health.
As shown in the figure below, wastewater from a home's toilet and shower flows into a closed tank. Nutrients from the wastewater (released underground in the SWG's garden section (the leach field) are added to soil below, enabling families to grow plants and gardens.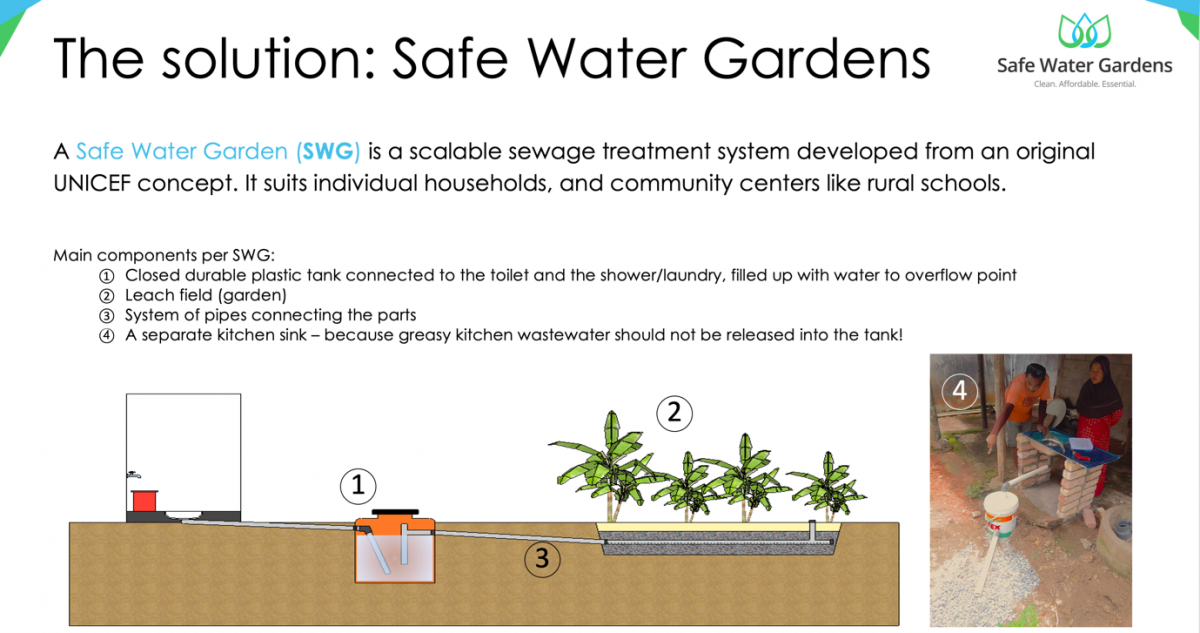 Constructed using upcycled plastic water bottles that are filled with litter and soil, the systems are easy to install and can be built in a half day by the family, volunteers, and staff. They are also built to be maintenance-free. In addition to providing rural families with safe, clean, and hygienic environments, SWGs provide new opportunities for families to grow food, which reduces food costs and improve much needed food security. Furthermore, SWGs prevent untreated sewage and pollution from flowing into the sea, where it can cause harmful algal blooms and jeopardize marine ecosystems.
Educating Local Communities
Education is a fundamental part of installing these systems in the homes of rural families. The organizers of the program insist that the homeowners are present during the construction of the system and that they help with the installation. Each and every homeowner is informed exactly how the SWG works, that it is maintenance-free if used correctly, and that it is very easy to repair in case of incorrect use. At the end of the maintenance and instruction course, homeowners are asked to formally sign an MoU stating that they understand the ins and outs of the system.
University teams throughout the area are also involved in education. After explaining the key hardware instructions, university teams also further stress the Indonesian government's COVID hygiene routines in terms of hand washing and water handling. After surveying the sites, talking with village elders and seeing what is feasible (it could be difficult, for instance, to require people to wash their hands with soap if they do not have access to running water), academic partners also determine if it is necessary to provide further hygiene programs in the correct venue for such a village setting – typically a series of lively "townhall" meetings where the community can learn about better hygiene practices.
"What I Iove about these projects is that we are able to deliver these deeply impactful, lifelong, lifechanging systems in just one day, and that the projects connect all the participants (villagers, sponsors, staff, government), making everyone understand our shared humanity; such a project makes us realise that we can make the world a better place and that it is a pleasure to do so. There's nothing like witnessing, over Zoom, the faces of a local family when they open the tap and, for the first time in their lives, see running water coming out!" comments Dr. Mar van Loo, initiator and co-founder at Safe Water Gardens.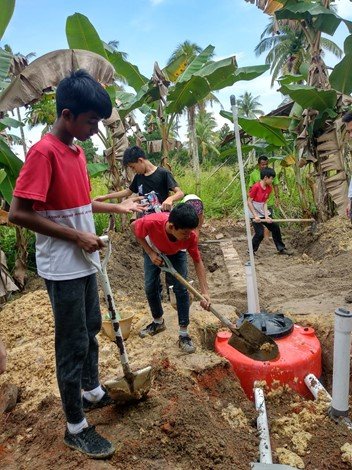 Support for This Important Infrastructure
SWGs were officially certified late 2019 by the Indonesian government which wants to see them built across the country. Companies and schools in Indonesia and other countries are donating funds and spreading the word. Because of the pandemic, people from other countries cannot, at this time, visit Indonesia to help in person. Fortunately, a very satisfying alternative scheme has been developed so that virtual visits are possible. These virtual visitors meet the families, learn about life in rural Indonesia, and the mechanisms and benefits of systems like SWGs, and construct the SWGs together with the local families over Zoom!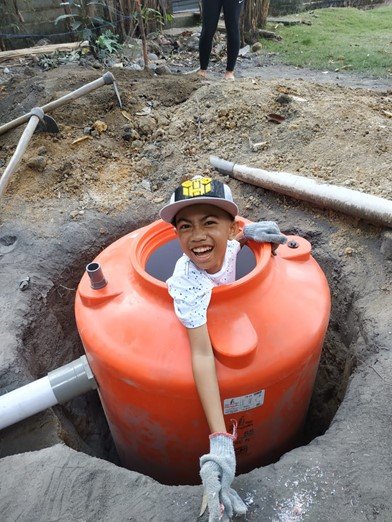 "LooLa's Virtual Service Learning Journey offering came along just at the right time… Our students were extremely excited and jumped at the opportunity to engage, in real time, with family members from a small village island community in Indonesia, facilitated by the incredible staff from LooLa. Via a series of Zoom calls the students quickly came to understand the urgent needs the family were facing, with an already difficult situation made worse by Covid restrictions.
Following a fund-raising initiative, the students were able to observe in real time how key improvement measures, such as a water pump, water supply pipe, toilet, and LooLa's trademark Safe Water Garden, were installed, bringing immediate relief to the family from their daily struggles. The ongoing long-term connection that we have now established between the family and our students via a WhatsApp group, to me could be the most powerful aspect to this fantastic service learning opportunity" says Michael Söldner, the Head of Experiential Education at St. Gilgen International School in Austria.
Volunteering and Giving Back
For those looking to donate or contribute to an impactful and life changing project for rural communities in the island nation of Indonesia, Safe Water Gardens provide an excellent opportunity to learn and act for the betterment of human health and ecosystem health through clean water.
The Safe Water Gardens website provides additional details about this project. You can also see the LooLa Adventure Resort Testimonials Page to hear visitors' accounts of aiding their various programs, and contact info@loola.net for details about virtual visits.