Through photosynthesis, the world's forests absorb around 30% of human-produced carbon dioxide emissions. Meanwhile, the ocean absorbs around 31% of human-caused emissions. While there are many large-scale reforestation projects designed to increase forest size and CO2 absorption, there are fewer projects trying to mitigate climate change by restoring or protecting ocean ecosystems.
The countless plants that live in the ocean have a role to play in mitigating global warming. If we can preserve and even expand these ocean ecosystems, the result will be a cooler planet, a healthier ocean, and stronger economies. This article will highlight two ocean ecosystems that absorb large amounts of CO2 and deserve increased attention from the movement to solve climate change.
Mangroves — the trees of the ocean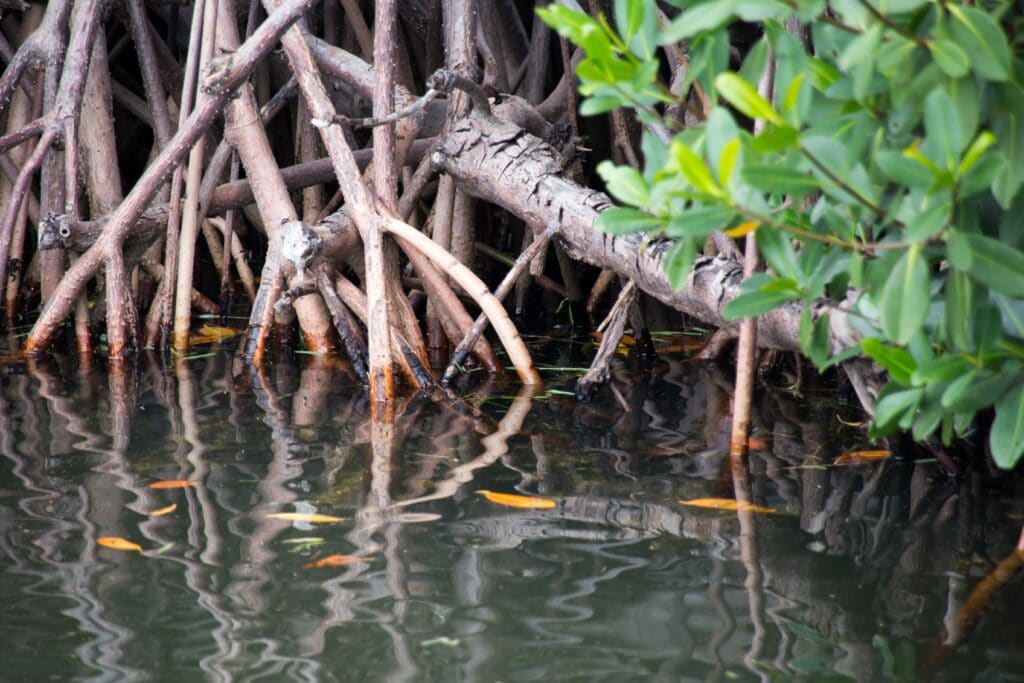 Mangroves are trees that grow in the ocean's intertidal zone, with their roots submerged at high tide. Fish and shrimp use mangroves as shelter for their young, and this abundance of marine life supports the livelihoods of coastal populations. Experts at The Blue Carbon Initiative estimate that mangroves are worth at least 1.6 billion dollars per year.
Mangroves also store carbon in their wood and in the mud around them, and do so three to five times more efficiently than typical trees. Since mangroves are so carbon dense, emissions from mangrove deforestation account for up to 10% of emissions from deforestation globally. This combination of environmental, ecosystem, and economic value has led Conservation International to call mangrove forests "the world's most productive and important ecosystem."
There are efforts being made to protect and expand mangrove forests. Conservation International has joined forces with other leading conservation groups to create The Global Mangrove Alliance, which aims to expand mangrove habitat around the world by 20 percent by 2030. As part of its plan to be carbon neutral by 2030, Apple funded the protection of a 27,000-acre mangrove forest in Cispatá Bay, a fishing community on the coast of Colombia. More countries, corporations, and communities should make protecting mangrove forests a top priority.
Seaweed — a climate-friendly crop
Moving past the intertidal zone, offshore ocean ecosystems also have enormous emissions reduction potential. One acre of certain kelp species sequesters 20 times as much carbon dioxide as one acre of forest. Through seaweed farming and cultivation, we could take more advantage of kelp's incredible ability to efficiently sequester carbon.
A recent study led by Professor Halley E. Froehlich at the University of California, Santa Barbara calculated the potential emissions reduction of large-scale seaweed farming. The study found that California could offset all 34.4 million tons of carbon (CO2eq) from its agriculture industry by creating seaweed farms in just a small percentage of the state's ocean waters. This finding suggests that for many coastal regions, large-scale seaweed aquaculture could become a major part of their regional strategy for becoming carbon neutral. Assuming seaweed aquaculture projects can support local ocean ecosystems, they could offer new jobs, major emissions reduction, and ocean health benefits all at once.
Scientists, conversationists, and farmers are all starting to recognize that large-scale seaweed farming could be good for business and great for the planet. Oceans 2050, a coalition dedicated to ocean restoration, is mobilizing a global network of seaweed scientists and seaweed farm operators to quantify the amount of carbon sequestered by seaweed farming.
Once Oceans 2050 completes their study, seaweed farmers will be able to earn additional income by selling carbon offsets in addition to their primary product. As demand for carbon offsets continues to grow, Oceans 2050 is ensuring that seaweed farmers will be able to get compensation for their carbon sequestration, and that the seaweed aquaculture industry will have access to green (or blue) capital.
Protecting Our Ocean Forests
This decade, as we work harder than ever before to mitigate and reverse climate change, we will need to use all the tools at our disposal. Protecting mangrove forests and expanding seaweed farming will benefit the planet, the ocean, and local economies.
Next time you're thinking about how to offset your emissions, or how to contribute to conservation while mitigating climate change, you could consider protecting mangroves in addition to planting trees on land. Wildcoast, an international nonprofit that conserves coastal ecosystems, offers anyone a way to offset their carbon footprint by funding the protection of mangrove forests in Mexico.
The time has come to recognize the forests of the ocean as a key piece of the solution to climate change, and to act accordingly.